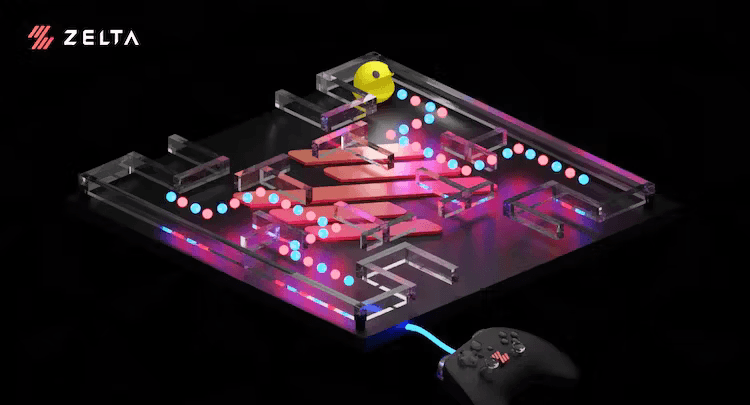 Riddhi D.
11:39 20th Sep, 2022
NFT
NFT Games on WEB3
We all know what Blockchain has done to the online space over the years and what it is capable of achieving in the days to come.
From cryptocurrencies to metaverse everything has added a lot of value to the lives of new-age investors and the lives of blockchain geeks as well.

Finance has been given a whole new definition since Blockchain hit the markets. It is the reason our generation believes that not all currencies are physical and there are options with which you can make some good bucks online. Various cryptocurrencies have shown a lot of potential for investors who are investing regularly and with proper knowledge. Some of the most popular cryptocurrencies include Bitcoin, Ethereum, Ripple, etc.
NFTs or Non-Fungible Tokens are a new form of digital assets but believe us when we say that they are the most profitable and sustainable addition to the world of blockchain incorporated with finance. With decentralized exchanges and decentralized ownership, NFTs have been one of the most talked about digital assets in the crypto world.
With this boom of NFTs in the market, many new applications are shining up as well and one of those new applications is NFT Games.
Who does not love to play games? You cannot ignore the fact that they help you pass your time most entertainingly!
And what better than earning some bucks or crypto while playing those interactive games?
This is what the concept of NFT Games is about; it allows people to earn a small number of cryptocurrencies while playing fun and interactive games.


Games - Then vs Now

Games have always been a centralized thing and the ones who have been playing games for a long time know that it takes a lot of effort, time, and some decent skill set to move forward in a game and maintain it but all of this could come to an end if the owner decides to shut the game down thus, with decentralization kicking in almost all the sectors of our lives; here it is again, in the form of decentralized games or popularly known as NFT Games.
NFT Games are decentralized games with no ownership and no fear of being shut down by a single entity. Everyone on the server shares equal rights in the game and has equal opportunity to earn a limited amount of cryptocurrency associated with it.


How do NFT Games Work?

NFT games work on a play-to-earn model and the players can earn profits on various NFTs by trading or selling them to other players. NFT Games are very different from the digital assets that one collects in their digital wallets. To explain NFT games in a simple format let's take an example of a Shooting Game.
In a shooting game, there are various avatars and forms of players which can act as NFTs and players can exchange, trade, or sell these NFTs to gain profits to earn some revenue. Not just characters, but the weapons which a player uses are also an NFT which can be used in the same way by the players to earn profits.
This concept of using In-Game NFTs is very unique for the users to earn good profits from just playing games. These in-game NFTs allow the users to earn those NFTs as collectable items where the items can be ranged based on their rarity, uniqueness, and utility within the game. This not only allows the NFT builders to price their NFT in a better way but also motivates them to make high-quality NFTs for higher bids.
Axie Infinity
Axie Infinity has been one of the most popular NFT games where players can play to earn crypto. Axie Infinity deals in "Axies" where players have to make an initial investment of buying 3 Axies (A Pokemon-like in game pet). This initial investment allows them to get a scholarship from some other player and then, they can start playing the game.

Other than Axie Infinity, the following are other popular NFT Games where users can play-to-earn:
Alien Worlds
Alien Worlds is another major NFT game which has over 1Million users. Just like Axie Infinity helps you in earning "Axies", Alien World involves earning "Trilium". As the name suggests, this game involves Planets and Trilium helps the players to gain control over various decentralized planets and then participate in the run for planetary council.
The Sandbox
Many of you would have heard about the game Minecraft and might have played it too. The Sandbox is an NFT-driven platform led by a community of people which is more of a NFT platform than being a classic game. The utility token of this platform is called "Sand" which can be used for buying in-game stuff and pieces of Digital Real Estates as well.
Gods Unchained
Lastly, Gods Unchained is yet another very popular play-to-earn game amongst the NFT enthusiasts as it gives its players full ownership over their in-game items. This game is a trading card NFT game which allows the players to sell, trade, or use their cards as per their wish.
These are some of the most popular play-to-earn NFT games in the market at present. Many other games like Pixelmon, Dogami, Sorare, etc are also coming in the play-to-earn scene and generating good traffic too.


The Benefits of NFT Games

As we all have understood that NFT Games are beneficial for both, gamers and investors. Compared to all the traditional games in the market, NFT games offer quite some advantages to game publishers as well.
Potential to attract Investors:
Blockchain is the future and everyone is understanding that with each passing day thus, these NFT games have a solid potential to attract big-budget investors over time. Being still on the initial road to success, NFT games have a lot of potential to be explored and with better investments from the market, the owners can put in better efforts and can generate better profits as well.
Income from Transaction fees:
With the potential of blockchain technology leveraging every day, more and more people are looking for options to own NFTs, cryptos etc. as a part of their investment plan. And what better way to earn digital assets by playing games? With NFT games spending more time in the market and gaining popularity, more and more users are getting to know about them and can be thus expected to trade NFTs. The publishers can then earn a decent amount as the transaction fee over all the trades made by players.  
In addition to the publishers, these NFT games have various advantages for the players as well. Let us take a look at a few of them:
Transparent Nature:
The rarer the NFT, the higher it is valued. Blockchain is known for its decentralized nature and transparency. With gamers creating new NFTs every day, blockchain technology would demonstrate the rarity of a particular NFT so that every gamer knows their original net worth.
A Possible Profession:
If you are passionate about gaming and are creative enough to create an NFT of your own, you can always take up NFT Games as a possible profession and earn a good amount from it. You can trade your creations and the profits will be yours to keep.
These were some of the benefits of NFT games for both the publishers and the gamers connected with NFT games.


Conclusion

NFT Games are undoubtedly the next big thing in the blockchain market and with an increasing growth potential, they will attract a lot of investors and hopefully we will be seeing more gamers trading their creativity in the form of NFTs. Blockchain technology has already paved a solid path in the finance market and with its inclusion in the Gaming industry, we will see a lot of new and creative additions to the technology.