Top 10 Crypto Telegram Groups You Should Join in 2023
Finding the best crypto telegram groups in 2023 can be a daunting task as they are mainly overrun by spammers and scammers.
Riddhi D.
9:32 20th Apr, 2023
CRYPTO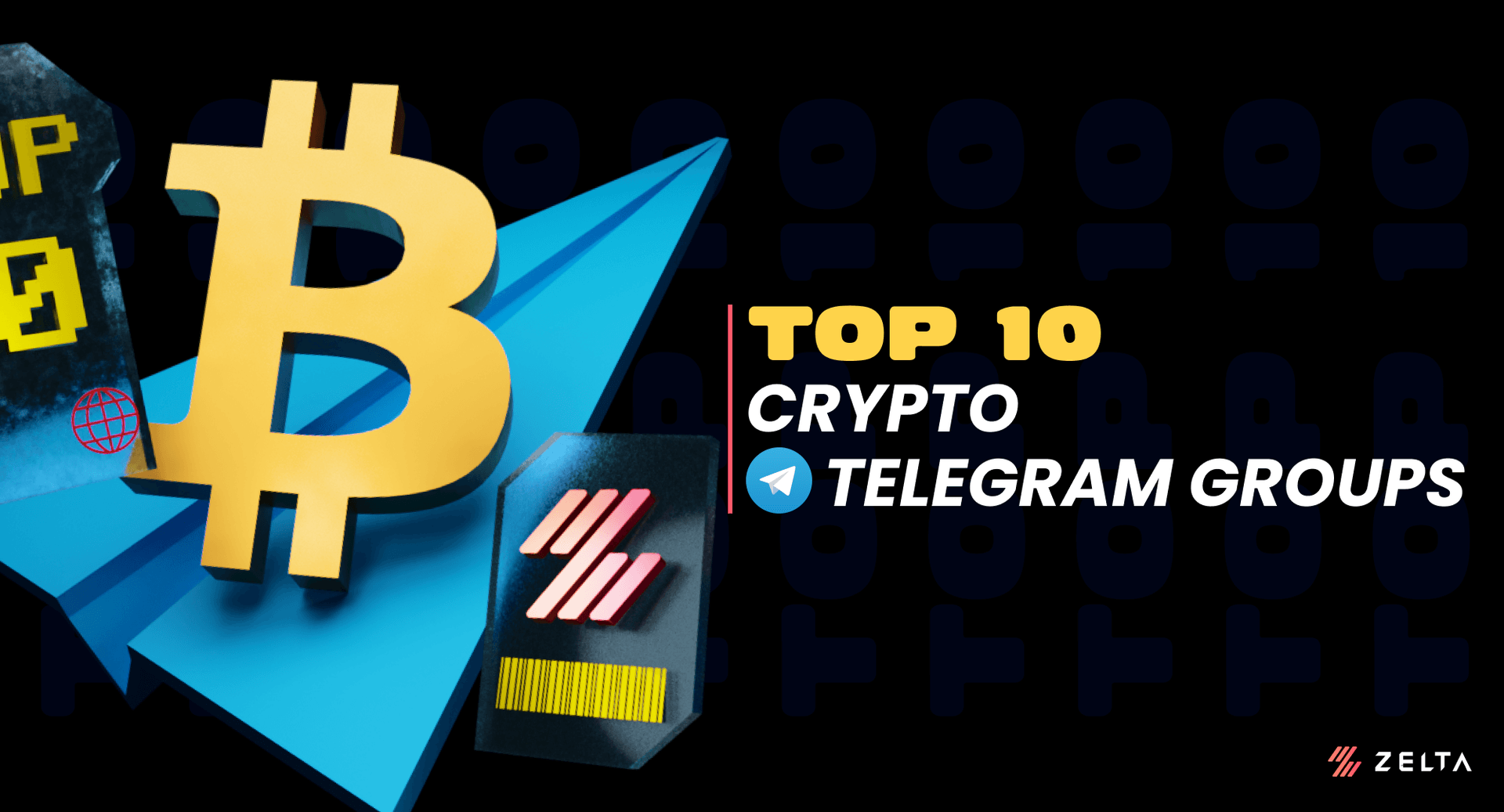 Don't worry, you're in the right place. We've done the research, so you don't have to waste your valuable time.
Our list of "quality" groups includes communities that are not too crowded, so you'll be able to connect with others and build meaningful relationships.

These groups can be difficult to find, but we've compiled the best telegram crypto groups for you to join.

Please note that the list of groups is non-exhaustive and they are ranked in no particular order. and we are not receiving any compensation for promoting them.
Note: Always DYOR before joining any group to avoid getting scammed.

(Also, check out Zelta.io, a platform with zero trading fees* and an extensive selection of over 200 cryptocurrencies to trade.)
Crypto Eagles (Link)

Looking to get introduced to new crypto projects? Also looking forward to having market-related discussions? This group would be a perfect fit for you. Hop in and converse with this community of 25.7k members from all around the world and make new friends while you're at it.


Crypto Planet (Link)

Are you looking to get involved in a community where AMAs are hosted almost every week with new crypto projects and want to ask questions about them with the team directly? Look no further because this is what this group is exactly for.


Crypto Global Community (Link)
If you're seeking opportunities to discover new crypto projects and engage in discussions related to the topic, this community is an ideal match for you. Join in and interact with a group of 16.6k individuals from diverse regions of the globe, and seize the chance to make new acquaintances in the process.


ID Crypto Official (Link)
If you're just looking for groups to have crypto conversations in and if you're Indonesian, you're in for a treat. If you're not on the hunt for some new crypto projects or want to be a part of AMAs, the community will gladly indulge in your gaming and anime needs.


Crypto Nation (Link)
One of the best ways to stay informed about current market events would be to find a good community and this is what this group is about. You will always stay up to date with regard to market and crypto updates in this group of nearly 12k members. If you happen to be from the Southeast Asian region, you'll definitely find some friends from the same countries.


Crypto Daku Robinhooders (Link)
If you're looking to discuss anything related to crypto, could be current events or new crypto projects or new developments like the new Shanghai upgrade, this is the most ideal place to be in. This community with 56.2k members is one of the best places to be in for this.


Filipino Crypto Community (Link)


If you're not only looking for groups which have crypto discussions but NFT discussions as well, this would be your go-to group. They also love to brag about their NFT flips. Check them out, you might learn a thing or two.

They are also looking out for members outside the Philippines and also encourage English conversations. Don't forget to check them out!


Prestito Crypto (Link)
If your interest lies in staying up-to-date with new listings, then this group would be an ideal match for you. They enjoy discussing and monitoring the latest listings. However, if this topic doesn't pique your interest, perhaps you'd be interested in joining their NFT discussions. They have a passion for NFTs and enjoy showing them off.


ES Community (Link)

If what you're looking for is a group that talks about a project's fundamentals, trading strategies as well as macro and micro economics, this is the best place for you. Created in 2017, this is one of the oldest, most filtered groups we have ever come across.

P.S. Majority of the members are Vietnamese and so is the chat. If you are Vietnamese or speak Vietnamese, this will be one of the best groups you would have ever joined


Crypto Bharat (Link)
Are you eager to explore fresh new crypto projects and engage in market-related dialogues? If so, this group is an ideal match for you. Join the conversation with 19.6k members and potentially make some new friends in the process.

Note: This is an Indian Group and majority of the conversations are in Hindi. Nevertheless, a good group to be a part of.

That concludes our list of the top 10 crypto groups on Telegram.

Your favourite group didn't make it to the top 10 list? Hop into our very own telegram group and let us know! While you are at it, spend some time with our community too!

If you liked this article, check out our Top 10 Crypto Facebook Groups List.
Trade Bitcoin and 200+ other coins with 0 fees* on Zelta.io.