Top 10 Crypto Facebook Groups You Should Join in 2023
Finding Crypto Groups and Communities to join in 2023 can be time-consuming. Most of these so-called "groups" usually have spammers and scammers.
Siddhartha D.
9:49 11th Apr, 2023
CRYPTO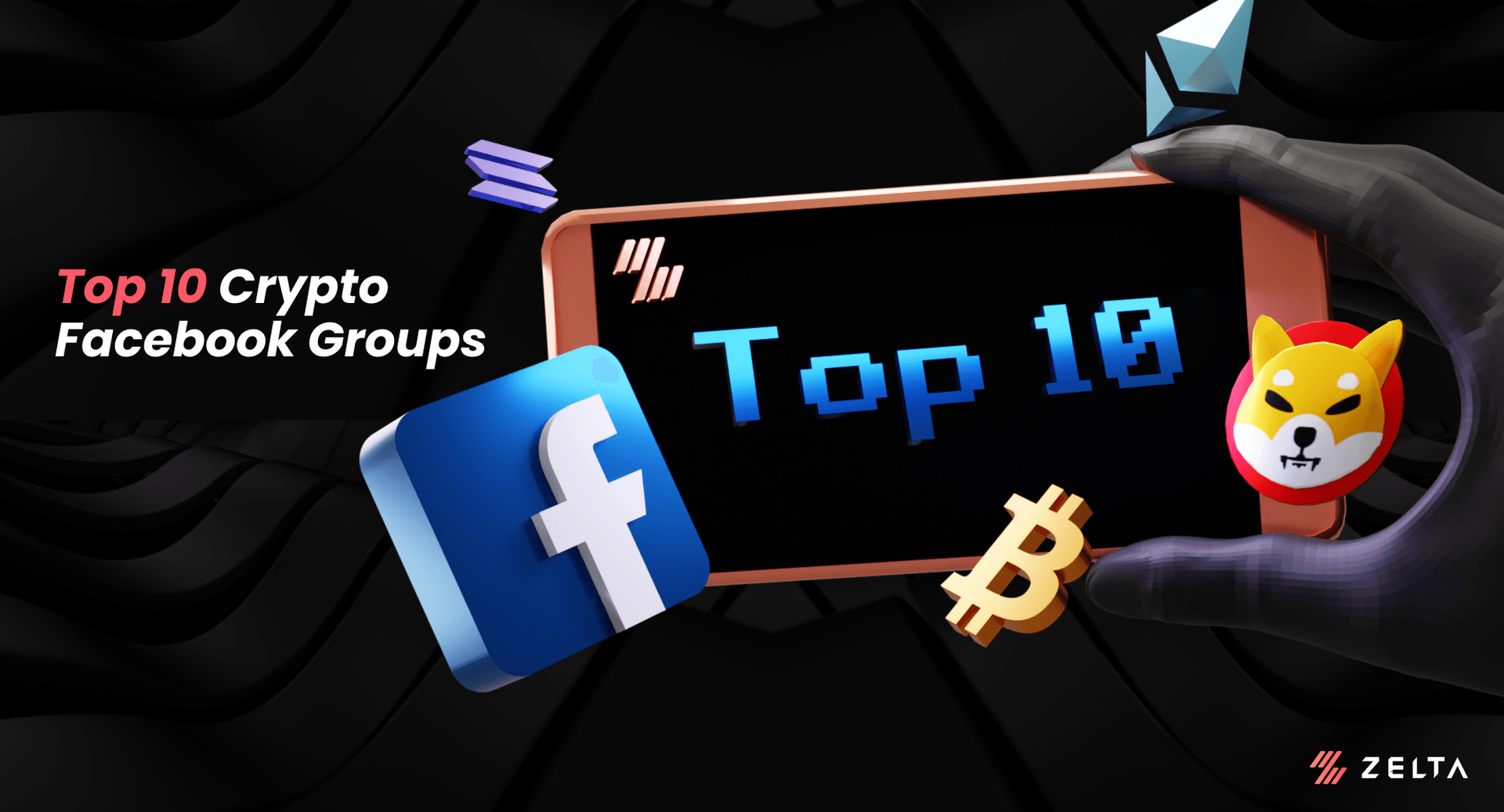 Do not fret, the sole reason you clicked on this is that you don't want to waste any of your quality time and we did all the dirty work for you.

Our list of "Quality" groups includes groups that are not too populated, meaning you will fit just right in and make good relations. These groups can be really difficult to find but what we have here is the epitome of what quality crypto Facebook groups look like.
(Before you continue ahead, check out Zelta.io, where you can trade upto 200+ other cryptocurrencies all just at 0% Trading Fees* .)


Let's dive into our list of 2023's most underrated crypto FB groups. But before we begin, we must let you know that the groups below are ranked in no particular order.

Also note that we are not being paid to promote these groups, we have manually searched them and thought it would be perfect for you!

(P.S. Most if not all of these groups mentioned will be private, you need to be invited or an admin needs to accept your join request in order for you to be a part of the group)


Indian Crypto Squad - ICS (Link)

ICS is another group which we think belongs in our top 5 Facebook groups. join forces with 30.4K other members in this community to stay updated on crypto events. ICS is what you would expect from a crypto community but in a much more welcoming way.  Despite the name being Indian, this group has members from different nationalities as well.

(Note: They have another group for OT or Off-Topic discussions. Same community, different group. You'll find the friends you make here over there too)


Crypto GB (Link)

As the name says, this is a crypto group based in the GB. But that doesn't mean it's only for the people in GB, they also have members from Nigeria, the U.S. and other countries.

Don't think twice about joining this group of 34.3k members with mostly young guns, they love to discuss their holdings and also love to discuss politics if that's your thing


Crypto Calls Australia (Link)


This one's for the Aussies! (P.S. Others are welcome too). Join this group of 44.5k members managed by MTC Education and check in for a lovely time during their events! You'll love it, we did too!

For beginners/newbies in trading, MTC Education also has a special Trading course for its community.

(P.S. We are not affiliated with MTC Education in any way)


CRYPTOCURRENCY TRADERS 🎀 (Link)


If you're a trader, a beginner or a pro, this group will definitely help you make some greens. Tag along with 57.9k other people like you and make greens all day. #DYOR

Just a note, this is a group which strictly has discussions related to crypto. Rest assured, you will keep evolving your trading strategies here


Stock and Crypto Success! (Link)



Although there's stocks in the name, the main conversations here are mainly on crypto. If you ever felt that a big community was not your thing, you'll be stoked to visit them.

They also have their own Crypto Wallet called YoWallet and also a coin called YoCoin. Join them if you'd love to hear more
(P.S. We are in no way affiliated with YoCoin and YoWallet)


BITCOIN Binance Ethereum and SHIBA INU Crypto Holders (Link)


Share your love for BTC, SHIB and other coins over here with 54k other people like you. Not only do they discuss different coins, but they also love their memes.

If you're on the lookout for a community or maybe even just a place to find good memes, this place would be a nice start.


Shiba Inu Crypto (SHIB) Pioneers (Link)


Looking for memes or looking to indulge in the $SHIB madness? This community is perfect for you! If this isn't what you're looking for, maybe blockchain updates or coin price updates would be something you're looking for, this group has that covered too. Tag along with 93k members and you'll always feel at home here.


Cryptocurrency Collectors Club(TM) (Link)


CCC is a welcoming community with a lot of good articles and posts by the members. The average discussion here is mainly about crypto news and price predictions backed by facts. Join this 74.4k member group and be amazed.

(P.S. This group is amazing for beginners)


CryptoHub (Link)


Are you looking for a group that has full-fledged discussions on different coins, keeps you updated about crypto and has a friendly community? If the answer is yes then this is the right place for you. Go ahead and be a part of this community of 25.8k members, have your discussions and make a lot of friends along the way. We did too!

(Note: Be cautious about their love for memecoins, we fell into it and we love it too much too!)


Crypto for Beginners (Link):


As the name suggests, this group is made to mentor the ones who just started on their crypto journey. A small tight-knit community of 14k members who help each other and share information.

Doesn't matter if you just started/ have started/ are about to start your crypto journey, this community is very welcoming and you will feel you always belonged here.


Your favourite group didn't make the list?? Hop into our Discord and let us know! While you are at it, spend some time with our community too!

If you liked this article, check out our other article on Bitcoin Rainbow Chart
Trade Bitcoin and 200+ other coin with 0 fees* on Zelta.io.